Last Updated on October 31, 2022 by Lily Connel
People often use the words sofa bed and sleeper sofa interchangeably. But, in the bedding industry, the two refer to two different products. A sleeper sofa is a standard couch with a collapsible mattress beneath the cushions. On the other hand, a sofa bed is a couch with a plain sleeping surface without a collapsible mattress.
Sleeper Sofa Vs Sofa Bed – The Comparable Table
| | | |
| --- | --- | --- |
| Serial | Sleeper Sofa | Sofa Bed |
| 1. | Sleeper Sofa is Comfortable to sit and chill | Sleeper beds are perfect for tiny apartments |
| 2. | Sleeper Sofa is durable and long-lasting | Sleeper Bed is Lightweight |
| 3. | A sleeper sofa does not demand complicated assembling | A sleeper Bed is Convenient to change the design |
| 4. | Sleeper Sofa Sizes, designs, and colors are available | A sleeper Bed is affordable rates |
| 5. | Sleeper Sofa fits in the mattress beautifully | The sleeper Bed serves the double functions |
| 6. | Sleeper Sofa matches the traditional couches | Sleeper Bed Are easy to clean |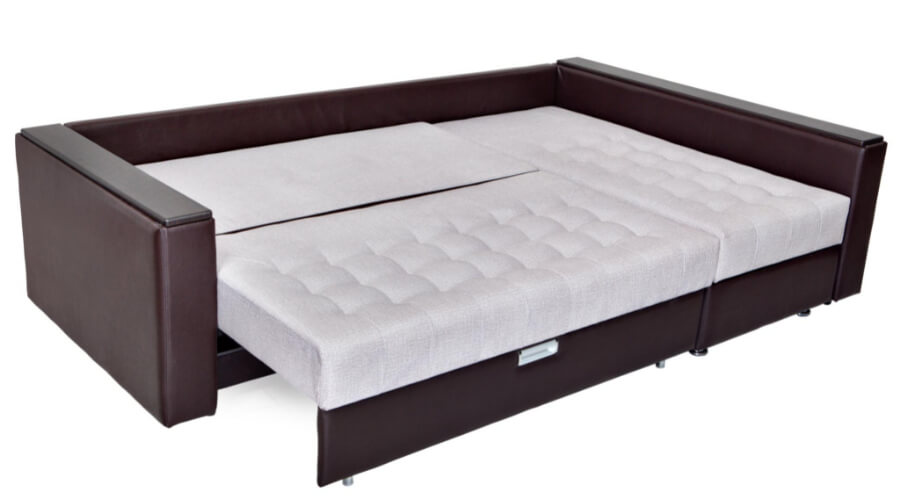 Only a few people know the difference between a sleeper sofa and a sofa bed. It is easy to explain it to those in the bedding industry. The main difference comes in their appearance. 
A sleeper sofa is a couch with a collapsible mattress beneath its cushions. They are wide such that two people can sleep comfortably. In most cases, you find them in either full or queen sizes. When using it as a bed, you need to remove the cushions and pull-out the bedframe out. The handle acts as the central unit. From there, spread the sheets, blankets, and pillow and it is ready for you to get a good night's sleep.
On the other hand, sofa beds do not come with a collapsible mattress. They are easy to handle as they involve folding and unfolding. When unfolded, they create a flat surface to sleep on. As a sofa, you can easily confuse them with a futon.  
 Sleeper sofas and sofa beds have one thing in common. They both serve dual functions, which are seating and sleeping. You can find them in bedrooms, living rooms, and sometimes offices. In the living room and offices, they serve as standard couches. Depending on taste and differences, they come in different upholstery patterns ad colors. They help enhance the look and feel of your home.
Other than appearance, they are both life savers. Their multi-function saves you money and space. Having a sofa bed or a sleeper sofa in your home saves you the cost of buying an extra bed. They serve best in a household with kids where they hold regular sleepovers. Some of the best sleeper sofas include;
| | | | |
| --- | --- | --- | --- |
| Sleeper Sofa | Price in USD | Size  | Uniqueness  |
| Pottery Barn Buchanan Deluxe Sleeper Sofa | 3,749 | Queen size | Standard pull-out mechanism |
| Wayfair Custom Upholstery Carly Sofa Bed | 1,500 | Queen size | Innerspring mattress |
| Darby Home Co Velvet Sleeper Sectional  | 4,000 | Queen size | Inner memory foam mattress |
| Crate & Barrett Sleeper Sofa | 2,399 | Twin size | Reverse orientation mechanism |
| Pottery Barn PB Comfort Twin Sleeper Sofa | 1,899 | Twin size | Oversized chair converts |
Are There Other Beds Similar To The Sleeper Sofa And Sofa Beds?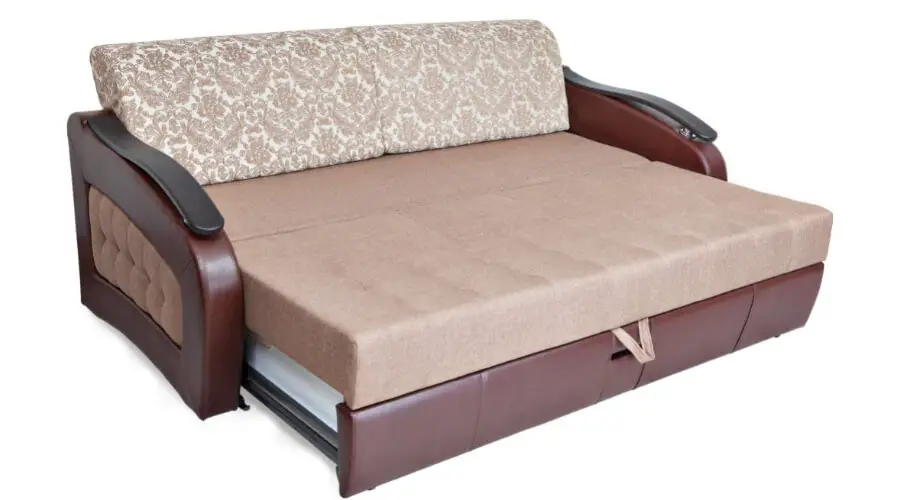 Nowadays, people are into space-saving and aesthetics. Sofa beds and sleeper sofas are elegant. They give your home an elegant ambiance to die for. Such furniture makes it easy to match other furniture. Due to this a lot more reasons, manufacturers came up with other similar sleeping arrangements. People have different tastes and preferences, and producers ensure they fill the market gaps. Other alternatives for sofa beds and sleeper sofas include;
Daybeds
These are improvements to the sofa bed. The difference is that there are no moving parts involved. Their mattress sizes also differ. A day bed has a twin-size mattress sitting on a flat platform. They also serve better with the spring mattress as other types make them sink deeper when used as a couch.
Trundle Bed
For people with limited space, trundle beds are the go-to option. It is a two-in-one kind of bed where you tuck on the mattress below the other. They are similar to bunk beds. There are different types known as roll-out trundles. When you have a kids' bedroom, they are the way to go since you will extend them creating ample sleeping space for them.
Futon
Futons are simple sofa beds. Sometimes people confuse the two. However, a futon has its sides exposed when serving as a sofa. When transformed, the backrest side falls back, making it lie flat. They lie so flat that the whole bed levels. Unlike sofa beds that come in wood frames, metallic futons are available.
What Should You Consider When Buying A Sleeping Sofa And Sofa Beds?
Sleeper sofas and sofa beds make life easy, especially for those living in studio apartments with limited spaces. It is challenging to have a couch and a bed since the room is too small. They help in transforming any living space into an instant bedroom. People refer to them as lifesavers, especially when they have guests over. To ensure you buy the right furniture, it would be best o consider the following;
Its Usage
One of the most important things to consider is the usage of the sofa. Do you want it as a daily sofa and bed? Or will you use it occasionally when guests come over? Some people go for them as additional seating options. In this case, consider going for the sleeper sofa when using them as a full-time bed and couch. They are solid and firm. Their coming with a mattress is an added advantage. For this reason, they do not wear out at first, even when used throughout. If going for a couch that serves as a bed occasionally, a sofa bed would do. 
Style
In this case, it is all about colors and complementing other furniture pieces in your room. Sofa beds and sleeper sofas come in different designs. In the case of sleeper sofas, you find metallic and wooden ones. Choose the right one depending on the color theme you want in your home. For instance, for a contemporary look, a sofa bed with clean lines and neutral colors would serve best. Ensure it has neutral colors to avoid being too conspicuous.
Go for wood furniture to achieve a country-themed look in a room with sofa beds and sleeper sofas. A dark-colored one like espresso works best. Complement them with fluffy throw pillows. Such a look gives your room a log-cabin rustic feeling like the countryside.
Size
Before going for either a sleeper sofa or sofa bed, be sure of the room size. It is such a shame to have a nice and cozy sleeper sofa not fitting into your room. Some fail to go through the passages and doorways and it is essential to have the measurements before getting one. If dealing with limited space, go for a twin-size sofa.
For those without space issues, a queen-size sofa serves better since it can accommodate two sleepers comfortably. When untransformed, it can hold even up to four people sitting. There are also different mattress types, especially for the sleeper sofa. Manufacturers recommend the spring one. 
There are other minor considerations, such as the possible damaging mechanisms. Sofa beds have sharp points that can damage your sheets and blankets. Consider going for sleeper sofas that have no such incidences. You can also try them out before buying. For instance, you can sit on the couch with the mattresses folded to ensure the cushions are intact, comfy, and of good quality. Another consideration is the ease of opening and closing. 
What Are The Benefits Of Sleeper Sofas And Sofa Beds?
The introduction of convertible furniture means that they have many benefits. Some of the benefits of sofa beds include;
Good Looking
Recent sofa beds and sleeper sofas designs define elegance and class—earlier ones used to be heavy, lumpy, and unattractive. With the new designs, you can barely tell whether it is convertible to a bed. Once you transform them, they serve both purposes without altering their appearance. Hence, people go to a furniture shop for these sofas. It is all about the look and how well they serve their purpose.
Ability To Mimic Traditional Sofas
Sofa beds and sleeper sofas are the way to go for those who love that traditional look and feel in their home. What else can you ask for when you have a convertible sofa that helps you maintain the theme look of your home? With different manufacturers in the market, some mimic any design of your choice. They are customized to suit your needs.
Comfortability
If you have slept on a couch before, sleeping on a sofa bed shouldn't be a problem for you. Recent designs are so comfortable that you would mistake them for a bed. For example, sleeper sofas come with spring mattresses. With this, it accommodates and holds you in your comfort zone. They provide support like a standard bed.
Saving Space
Sofa beds and sleeper sofas are invaluable when it comes to space-saving. You can have them in any room such as in the bedroom, tv room, snug, or living room. You can have one in the bedroom for larger families if there is limited space. The good thing is that the modern designs come with hidden storage to stash all the extra bedding.
Conclusion
Sofa beds and sleeper sofas serve the same purpose. They are convertible couches that serve as seating and sleeping options. However, they have a few differences, such as a mattress underneath the cushions on the sleeper sofa. They both help save space and create an elegant look for your home. Modern designs have a wide range of colors and patterns, making it easy to find one that suits your taste.